It occured to me, as I've been working on projects and pictures for the "boys room" that I've never really taken the time to describe how our life has changed, now that baby Eli, our littlest boy, is a part of our family.  Why is that?  Well, it has taken me some time to wrap my mind around all that has happened since this little guy was born.
A Trying Pregnancy
Let's back up a bit, even before that happy day in April.  I have always had difficult pregnancies, and this was no exception.  In fact, this was the most trying, painful pregnancy of all.  One reason was, that when you factor in the miscarriage from last summer, by the time April came around, I had been pregnant for a solid year--and I still didn't have a baby to show for it.  What I did have was an exhausted body, an weary spirit, and the feeling like it was never going to end.  I talked about what God showed me about my pride through that hardship in this post.
At 30 weeks I started having false labor pains.  These weren't the gradual, tingly practice contractions, but the full on cramping of early labor.  This went on for more than six weeks.  When I was 36 weeks and 6 days pregnant, I went into labor.  I was so happy!  We headed up to the hospital, eager to meet our little troublemaker, only to be told that I wasn't in labor at all.  It's one thing to go in for a false alarm with your first baby, but this was my fourth time!  I was humiliated and so disappointed.  I begged them to keep me there and wait it out, but since we were still one day earlier than full term (37 weeks), I had to go home.  I think we were home for two hours before I stopped sobbing.  Again, it seemed the Lord had a lesson about pride for me to learn.  I wish I could just learn it already!
Two days after the false alarm, I finally went into working labor.  I was embarrassed to even call my doctor again so soon, for fear of being wrong again.  But it was the real thing!  We got settled in, had the epidural, and took a nap.  I could go on and on about our decision to use medication during birth.  And if you ever want me to explain the whole story, I'd be happy to.  But the short end of it is, I've done natural childbirth.  It was beautiful and empowering, and I'm over it.  Once that sweet sweet anesthesia was running through my body, I was pain free for the first time in an entire year. 
He's Here!
Elijah's actual birth went smoothly and he was a beautiful 8lbs 4oz. It wasn't until we were up in our room that things started getting tricky. 
All night long I struggled to get Eli to nurse.  The nurses came in during the night and asked how it was going.  I told them that I was concerned that he hadn't nursed yet, and they assured me that the first 24 hours are tiring for babies, and many just don't try to eat until after that.  Ok.
But after 24 hours, I was still struggling. They had me hand expressing, pumping, and eventually bottle feeding formula, and I was having a hard time getting anything down him at all.  They had me write down how much I was feeding him.  I couldn't measure in ounces or even milliliters.  I was counting drops.  As in, 1am: 10 drops, 3am: 5 drops... Once I got him to take 5 mL, and I felt like I'd scaled a mountain!  I knew that something wasn't right, but they kept telling me that he'd get the hang of it.
At the same time, Eli's jaundice level started to climb.  By the time we should have been able to leave, his levels were still rising.  We had to stay another night.  It seemed weird to me that no one was concerned that he had not figured out how to suck.  He couldn't nurse at all, and it took 20-30 minutes to feed him 5 mL through a bottle.  He was moving his mouth and making swallowing sounds, but every time I held up the bottle to check how much he'd gotten, the liquid was almost at the same level as before.
I Can't Do This
Finally, on the fourth day of our stay, I got him to drink about 10 mL, only to have him spit it all up immediately.  I was beside myself.  It was time to make the nurses understand that something was wrong.  I felt like I was starving my baby, and no one was helping me.  On the verge of hysteria, I called in the nurse and begged her to hear me.  My newborn was 3 days old and hadn't eaten yet!  They called someone up from NICU, and she went to work figuring out what was going on.  Within minutes, she assessed that he was holding his tongue way back in his mouth, so a bottle was the only way to go until he corrected that.  Also, he was having a hard time  supporting his chin enough to swallow.  She held one finger gently under his chin for support, lifted the bottle to his lips, and he drank 30 mL of formula within 60 seconds.  I could not believe it.  I looked into her eyes, with tears running down my face and thanked her.  I'd been so close to panic. 
She said, "I don't blame you for being upset.  You feel like this should be easy, since you've done it 3 times before.   Everything should have gone smoothly."  Her words were a bandage to my heart.  And as I type this I wonder, was this another step in my lesson about pride?  All it took was to ask for help.  Why did it take me 3 days to do it?
With my new chin-supporting maneuver, I was able to feed Elijah steadily for the rest of the day.  I couldn't nurse him, but who cares!  He wasn't starving anymore!  We still had to stay one more day to monitor his jaundice and put him on light therapy, so they wheeled in the big-mama Medela pump so I could stop giving him so much formula.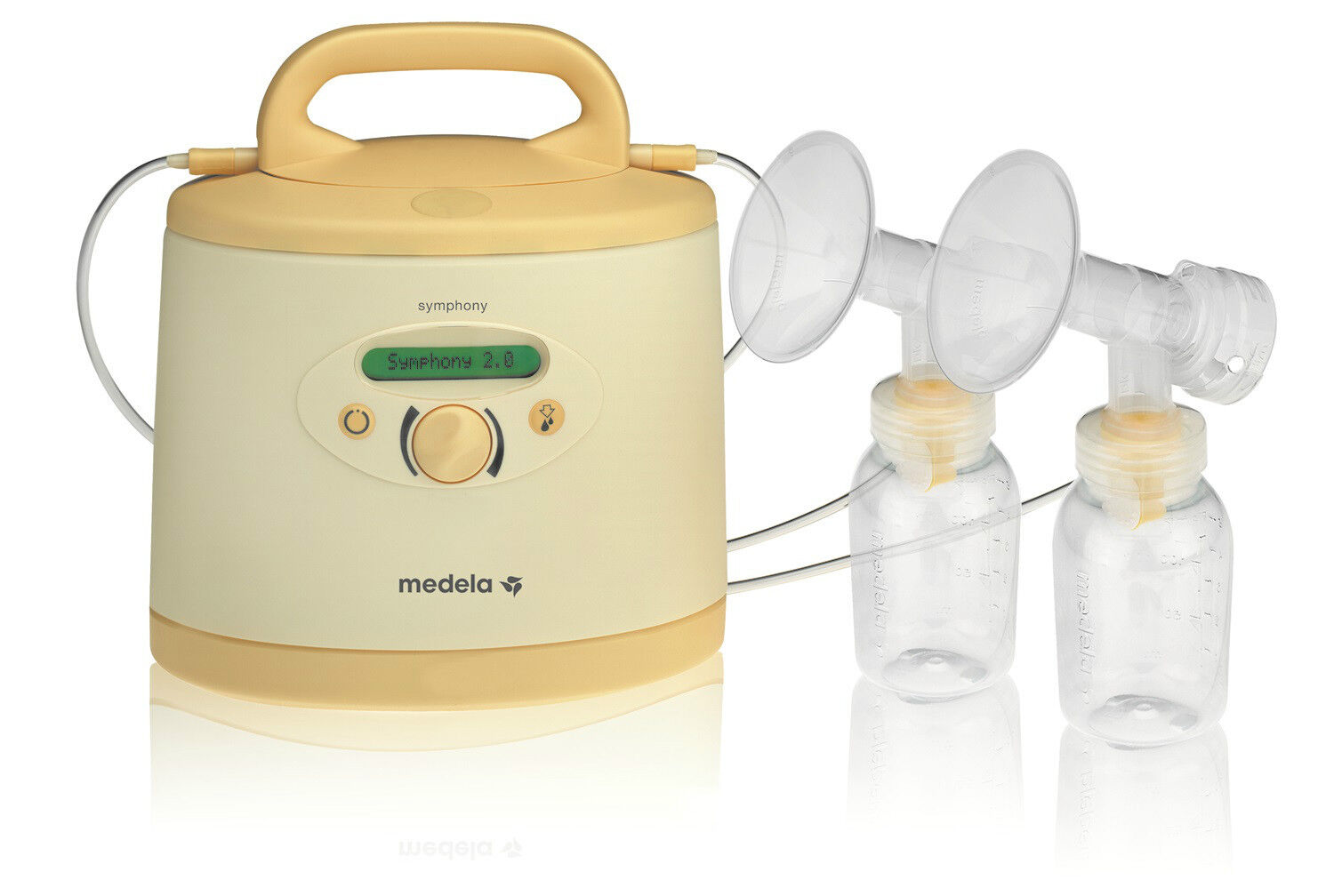 That thing was amazing!  I pumped through the night, throughout the day, between meals, and even once while I had company!  Soon he was completely off of formula, his light therapy was complete, and we were on our way home. 
Pumped Up
Since I'd left the big pump behind at the hospital, I had to figure out how to feed Eli from this moment forward.  I had some formula, but since I was producing plenty of milk, I thought it would be better to pump.  Donnie got on Craig's List that very day and found a fancy Medela portable in perfect condition for only $40.  We packed up the whole family and went to get it.


For the next six weeks, Elijah thrived on milk that I pumped for him, plus an occasional supplemented bottle of formula.  If you have ever had to pump for any length of time, you know that it is a labor of love.  It is the worst of both worlds--none of the bonding of nursing, with none of the convenience of formula.  Each feeding takes at least twice as long.  Feed the baby, get him happy, then hook up to the pump.  Then store the milk, wash the old bottle, wash the pump parts.  It seemed all I was doing was pumping or bottling.  At first, at the advice of the lactation consultant, I tried to nurse him before each feeding.  That was a nightmare.  He wasn't the least bit interested, and it was upsetting to both of us.  After that, I only tried to get him to nurse if his hunger got ahead of my pumping schedule.  But all that did was make him hungrier...and angrier!  I had all but stopped trying, when I got the idea to pull the bottle out of his mouth mid-feeding, and try to get him to latch on to me after he'd gotten good suction on the bottle. It worked.  He latched for the first time in his life at 7 weeks old.
For the next few days I nursed him a little more and a little more.  I thought we were through it, but all of a sudden he quit again.  Suddenly, he refused to nurse, and to add insult to failure, my milk supply had dwindled to almost nothing during his three days of inefficient suckling.  I took one day to grieve.  I let all of my anger, hurt, and bitterness spill out.  Why did this have to be so hard?  After a day of sobbing, sulking, and feeling like a failure, I knew I had a decision to make.  I could go back to pumping or I could switch to formula for good.  Nursing would probably never happen for us, and it was time to face that fact.
God Speaks through Pinterest
Somehow that night, I ended up on pinterest.  I mean, as long as you're having a crappy day, you might as well find a way to suck up some of the time, right?  My sister had just pinned a newly-written article by a woman who pumped exclusively for 14 months.  It was full of tips and tricks, encouragement, and humor.  It was what I needed to lift myself off the floor and carry on.  I decided that night that if I could get my milk supply back up, I would pump for my baby through his entire first year, even if he never tried to nurse again.
I want to pause here and say that I do not think that God was telling me to pump by leading me to this article.  I don't think that formula is wrong, or that pumping is the "right thing to do."  But I still believe that He led me to it to remind me that He loves me, He knows my heart, He's taking care of my babies, and He wants His best for us.  It was a deep desire of my heart to keep feeding my baby this way, and He chose to allow me to do it.
It's funny--before I found the article, I would sit down with the pump and grumble to myself.  Why do I have to do this? or Why can't he just learn to nurse?  But after I made the decision to stick with it, I never again let those bitter questions fill my heart.  Instead it was, This isn't so bad! or  I'm so glad I get to pump! or Eli's breath smells so much better now than when he was on formula!  It's interesting how perspective changes.
I pumped around the clock again for weeks, increasing my supply, decreasing the amount of formula I was giving him.  Some weeks I had enough to keep him satisfied, and other weeks I had to scoop out a lot of Similac.  On the outside it wasn't much different than before, but inside everything had changed.  If a bitter thought about pumping or bottling, or being awake insane hours of the night, crossed my mind, I turned it away immediately, until the temptation of self pity was all but gone.   When I told friends what I was doing, most of them worried for me.  It's so hard! I could never do that! I'd give up!  And somehow I was able to admit that it was hard, but let the strength of the Lord carry me through the difficulty of it.  This is the peace that passes understanding.
Unexpected Grace

I don't know how to transition into the next phase of this story...because really it happened almost instantly.  Three weeks ago I was explaining to yet another friend about the fact that Elijah doesn't nurse.  I think I had to stop at home to pump before I could meet her out somewhere.  She expressed concern, and I assured her that we were fine, blah, blah blah...
And then sometime within the next week, I tried to get him to nurse,  just on a whim.  He latched on.  And he drank, and drank, and drank.  He nursed efficiently for the first time in his life.  And he was 14 weeks old.  I didn't tell anyone but Donnie this time, because I couldn't stand to disappoint my friends if he quit again.  But he didn't.  And now here we are, more than two weeks later, and he is still nursing!  This could only be God.  I don't know why He chose to make it happen now, but I am praising His name every time I sit down to feed Elijah.
So, now you know quite a bit of what we've been dealing with, and what God has been teaching us--mostly me.  Oh, how I hope I'm at least a tiny bit closer to learning my lesson on pride! This one has stung so much!   But the closeness to God that comes through His gentle discipline is worth it. 
I don't believe that Eli's inability to nurse was a punishment for my pride. Hard times happen to everyone.  Nor do I think that Eli learning to nurse is a reward for anything.  It's just a bonus, a love note.  The reward is that when I chose to lean on Jesus, chose contentment, and let Him lead me through the trial of these many months, He revealed His joy to me.  His joy does not rely on my circumstance, only the willingness of my heart to accept it.
 ::
If you have any questions about pumping or nursing, please feel free to ask in the comments below.   I'd be happy to answer them!  (Please be discreet in reference to body parts...I have a wide age range of readership!)  For more personal questions, email me a lassothemoonshop (at) gmail (dot) com.
 XOXO, Anna